https://forestlearning.edu.au/find-a-resource/article/10/sustainable-timber-harvesting-in-native-state-forests.html
Sustainable Timber Harvesting in Native State Forests
Lesson Overview:
A sustainable timber harvesting lesson with combined fact and work sheet for students to explore questions relating to timber harvesting, forest management and timber harvesting regulation in native state forests.
Year Level/s:
Key Curriculum Areas / Subject:
National Curriculum Codes:
ACHEK001, ACHEK002, ACHEK004, ACHGK037, ACSHE120, ACSHE121, ACSHE135, ACSHE136, ACSSU116
Strand Content Description:
ACHEK001 - The difference between needs and wants and why choices need to be made about how limited resources are used.
ACHEK002 - Types of resources (natural, human, capital) and the ways societies use them in order to satisfy the needs and wants of present and future generations.
ACHEK004 - Develop questions to guide an investigation of an economic or business issue or event, and gather data and information from observation, print and online sources.
ACHGK037 - The classification of environmental resources and the forms that water takes as a resource.
General Capabilities:
Critical and Creative Thinking, Ethical Understanding, Intercultural Understanding, Literacy, Personal and Social Capabilities
Cross Curriculum Priorities:
Curriculum Connections:
ScOT Catalogue Terms:
Environmental Management, Industries, Natural Resources, Renewable Resource, Resource Management
Theme/s:
Forests - Ecology and Natural Processes, Forestry - Sustainability and Certification, Forestry Products - Processing and Technology
Resource Type/s:
Primary: Fact Sheet
Secondary: Student Worksheet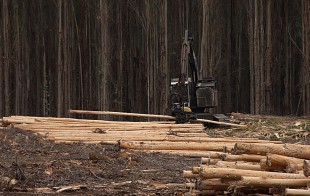 Student Resource
Timber Harvesting in Native State Forests Worksheet
File Size: 383.82 kb
File Type: PDF
Login