Science Teachers take to the Forest
30 November 2017
A recent ForestLearning day, facilitated by the Leschenault Timber Industry Club, gave science teachers from a range of south west schools in Western Australia the opportunity to connect with the forest as a context for learning, and understand timber's important role in a sustainable economy.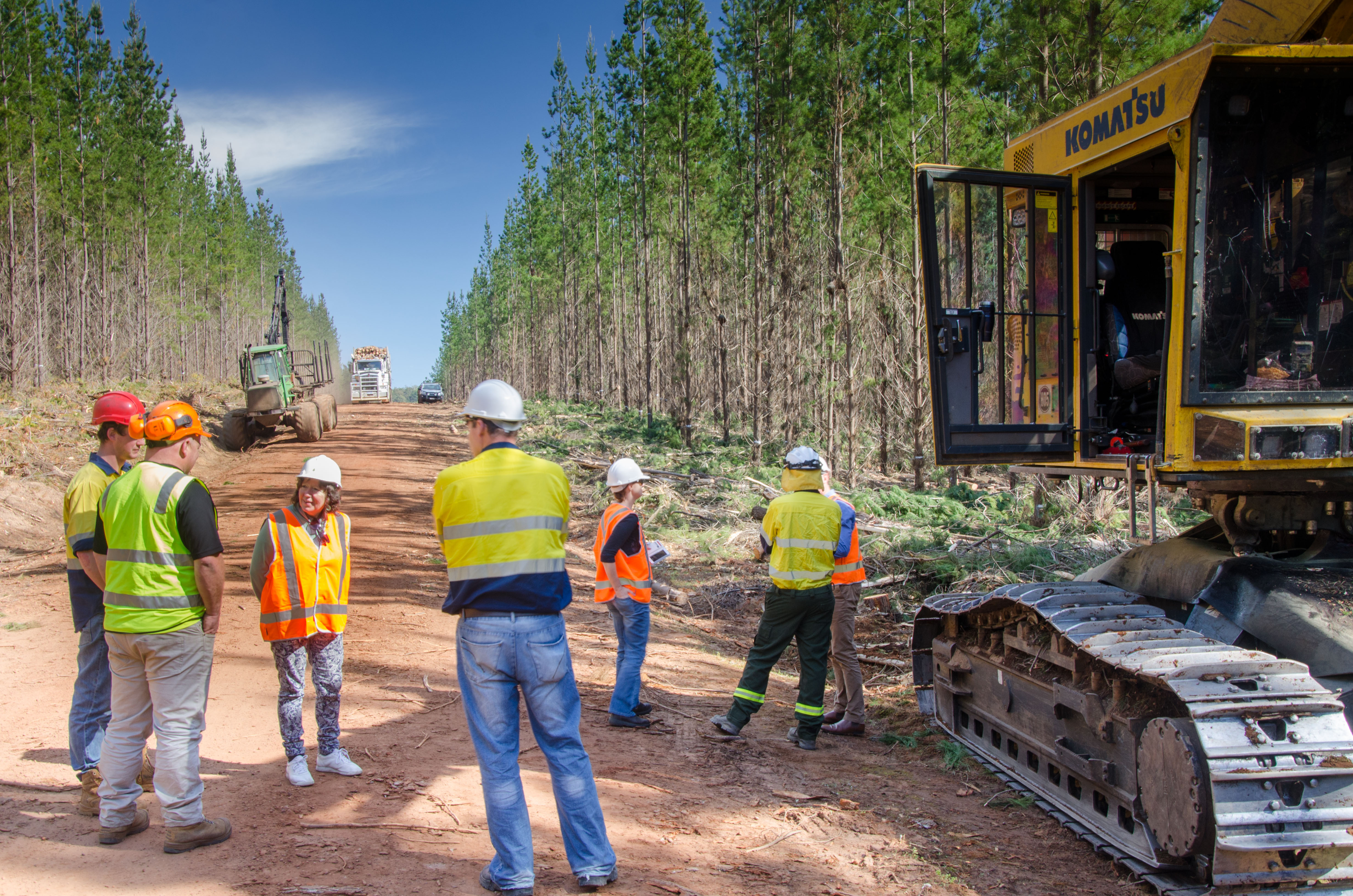 The WA Forest Products Commission's operations officer Andrew Stone, assistant operations officer Jye Newman and Total Harvesting's Karl Anderson take school teachers through the harvesting process in the state's south west.
(Photo by WA Forest Products Commission)
About the Day
The day started at the FPC's Bussell pine plantation south of Collie. Operations officer Andrew Stone and assistant operations officer Jye Newman along with Total Harvesting's Karl Anderson explained the harvesting process and gave the teachers the opportunity to examine a harvester.
Tour leader, Wespine's Brad Barr, took the group through the Wespine mill where they discussed the jobs, technology and investment that goes into the timber industry.
The final stop was at the Bunbury Port for an explanation of bio-energy, it's potential to displace coal and the creation of pulp paper.
Reflections from the day
Brad Barr, Resource manager of Wespine Industries and tour facilitator said about the tour "The ForestLearning days were great opportunity to connect one on one with members of the community. It's something that industry has done a poor job of letting people know about what a good industry we are and how renewable and sustainable it is... Certainly everyone that we have brought through has come away with a totally different appreciation of the industry and of the jobs that are created and of the renewable nature of the resource.. It's up to industry to get out there and engage and show we are a sector to be proud of."
Some teacher comments from the day included:
- K. Taaffe, Bunbury Primary School: Science Specialist - "I thought I probably had a better idea than most being that I live on a farm and I'm from a farming area, but had no idea about the thinning aspect (of forestry) or the fact it reduces fuel load and allows the trees to grow larger - those sorts of things. ...It's definitely been a learning experience for me".
- J. Scott, Cooinda PS Science Teacher - "I have come along today and seen and thought about things that I have not appreciated before without the firsthand experience - the complexities involved in growing and managing a forest, the commercial side of such a venture and just the challenges that are faced along the way! So to bring some of that appreciation back into the classroom for students (who) drive past a forest, whether it's managed or public, to appreciate all of the complexities of what they are being involved in (has been great)!"
Want to get involved?
If you would like to learn more about how to get involved in a ForestLearning tour in your region, or to facilitate one, please contact us on info@forestlearning.edu.au! We'd love to help make it happen!