ForestLearning connects with Australian Teachers Face-To-Face
29 August 2018
ForestLearning visited Western Australia and Victoria during August 2018 leading teacher Professional Learning workshops, Biology student sessions, hosting conference field tours and holding trade displays at lead state teacher association conferences. Learn more about these events below.
Western Australia - 7-11 August 2018
ForestLearning visited Western Australia and conducted a number of education events while in the state.
Year 11 Biology session, Manea Senior College - 8 August 2018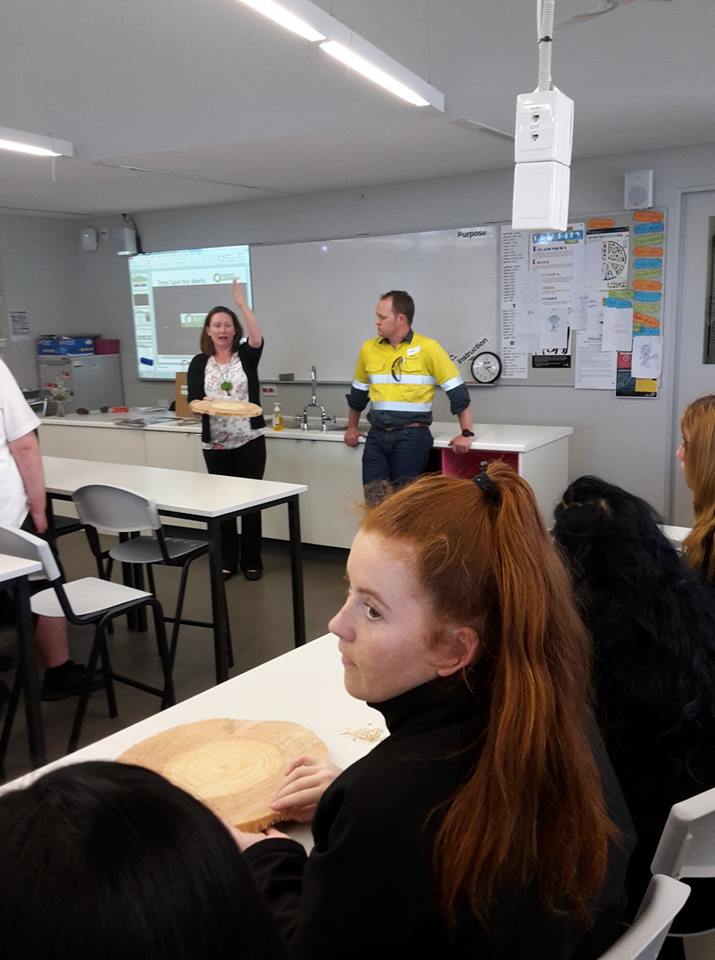 ForestLearning conducted a visit with Wespine forester, Brad Barr, to Manea Senior College's year 11 Biology cohort. Students worked in small groups and explored the renewable forest industry, plant photosynthesis and the resulting carbon sequestration aiding climate change mitigation, forest science careers and worked with real 'tree biscuits' (cross sections of a 30 year old pine tree log) to date the age of the tree and discuss the influence of climate and thinning operations on tree growth. Manea Senior College's Biology Teacher, Jo Ellard, followed up this session by saying "We all agreed it was inspirational and informative and we went outside to work in the garden after you both left as the students wanted to 'touch a tree'".
Primary Teacher Professional Learning event at Wespine Softwood Mill, 8 August 2018
Wespine and ForestLearning hosted primary teachers from the Bunbury region for a Professional Learning workshop and tour of the Wespine Mill. Teachers attending discovered more about the ForestLearning resources housed on the ForestLearning website, and were given a guided tour of the Wespine Softwood Mill from log to sawn wood product and how Wespine mill 'uses every part of the tree' during its journey from paddock to paper plate and wood product. Although living close to the mill, this was the first encounter of the forest and wood industry for these teachers and both are now working on producing a year 3 unit on "Paddock to Paper Plate" for their programs.
D. Grant from Picton Primary School gave feedback from the event -
"It was very enjoyable and very informative! Thank you so much for your time and I look forward to incorporating this into my lessons as much as possible!"
Geography Teachers Association Western Australia state conference - field tour to Wesbeam manufacturing plant - 10 August 2018
ForestLearning, in conjunction with partners Wesbeam and Forest Industries Federation Western Australia, hosted 15 secondary Geography Teachers to the Wesbeam pine plantation and Wesbeam Laminated Veneer Lumber (LVL) manufacturing plant at Neerabup, 45 minutes north of Perth. Teachers explored contextualising curriculum outcomes for the Geography curriculum including the interconnections occurring between regions of Australian forest and wood products and gained greater insight in Australia and international trade pathways.
Focus on Fibre - Primary Teacher Professional Learning workshop, 11 August 2018
More than 25 primary teachers from the greater Perth region attended a Saturday morning "Focus on Fibre" teacher professional learning tour and workshop, coordinated by the Department of Education Western Australia. ForestLearning, along with LifeWood hardwood flooring manufacturer and retailer, hosted teachers at the LifeWood showroom and ForestLearning followed this up with a workshop at Kiara College, Perth exploring the ForestLearning resources and their application in primary classrooms.
Geography Teachers Association Victoria Conference
ForestLearning attended the Geography Teachers Assocation Victoria (GTAV) state conference, and was pleased to mann the combined Primary Industries Education Foundation (PIEFA) primezone and ForestLearning trade display. In addition, further connections were made regarding the new ForestLearning Virtual Reality tools being developed in conjunction with GTAV with the launch of their new Water Safety VR resources created with Lifesaving Australia.