ForestLearning Boosts Innovative Online School From Home Learning
15 April 2020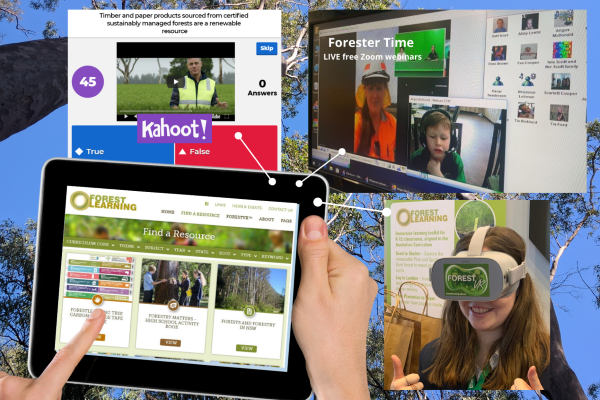 It's a close to term 1 2020 none of us in Australia, or around the world, would have ever imagined, let alone prepared for in schools. As this article is published, most state and territory schools have restricted attendance to only those children of essential workers. It's unprecedented times that calls for innovative uses and flexibility in delivering online learning that many of us have never had to contemplate before, let alone within such a short period of time.
ForestLearning (www.forestlearning.edu.au) has for many year's provided teachers with free quality online teaching resources that focus on integrating contexts of sustainable forests and wood products into Australian curriculum aligned lessons and activities for students. With much of this innovative educational content already designed for online delivery, the program is well placed to offer an expanding number of learning opportunities to students in this current unprecedented 'school from home' season. With an ever-increasing number of teachers and parents looking for online alternatives that can be easily accessed from a home learning environment, the ForestLearning website provides solutions in an expanding variety of forms.

In addition to the existing suite of resources available to download, several new initiatives and activities are being rolled out by ForestLearning around Australia to quickly respond to the covid19 school closures to further assist time poor teachers. Forester Time (free zoom webinars), conversion of printable worksheets to fully online tools using Kahoot!, as well as ForestVRTM virtual tour tools for schools are all being rolled out by the program for term 2 2020.

Forester Time - real time video conferencing
Late last year, more than 150 students from around Australia were given the opportunity to talk in real time to a forest worker out in the field - all without leaving their classroom. The 'Forester Time' initiative was run by ForestLearning and the Primary Industries Education Foundation Australia (PIEFA) as part of National AgDay in November, allowing students to chat in real time with a forester in their forest workplace to help them learn more about their daily work, the renewable cycle of forestry and where our wood and paper products come from.

Following these successful pilot sessions, and the new opportunity schooling from home presents, 'Forester Time' will be back in term 2, connecting teachers, parents and students with real time forest and wood processing workers via the online video conferencing tool 'Zoom', direct to student homes using secure password precautions.

If you're a teacher or a parent and are keen to be involved, please contact ForestLearning (info@forestlearning.edu.au) to register your interest.
Teaching resources going 100% online for easier home learning
ForestLearning is in the process of converting more of their existing YouTube multimedia education videos and associated worksheets into online quizzes using the popular Kahoot! teaching tool, to save the need for printing worksheets at home or school. They're incredibly fun, informative, user-friendly and easy-to-follow for teachers, parents and students and would provide a readily accessible tool to use for home schooled students given their compatibility with many commonly used online classroom platforms such as Google Classroom and more.

Examples of Kahoot! quizzes available now to use include 'GIS – Geographical Information Systems' (years 11-12 Geography), 'Innovation in manufactured wood products and construction' (years 7-10 Design and Technologies) and 'Going Bush – South Australia's pine tree experts' (years 5-10 Design and Technologies, Geography) and can be accessed via the ForestLearning website (forestlearning.edu.au).
Are you looking for a resource that you can't find for your classroom? Please let us know and we will work to provide a solution! Contact info@forestlearning.edu.au.\
ForestVRTM toolkit for schools
Since launching last September, ForestLearning's ForestVRTM toolkit – learn through immersion, has allowed students to experience firsthand, through 360 virtual reality experiences of forest and mill environments, the renewable cycle of forestry from 'Seed to Shelter' in an immersive and engaging way.
The ForestVRTM virtual reality toolkit, and soon to be launched Geography and Design and Technologies teaching resources and lesson plans, was developed and designed through collaboration with the Geography Teachers Association Victoria, the Design and Technology Teachers Association Victoria, and other successful early adopters of VR in classrooms, in conjunction with leading forest and wood product industry partners. Filmed at 28 different locations across Australia, the 360 immersive experiences and virtual tours are available to view and access via www.forestlearning.edu.au/forestvr. ForestVRTM Apps for IOS, Android and Oculus are also soon to be launched in term 2 2020.

Virtual reality has truly overcome problems around the inaccessibility of visiting physical forests and wood processing facilities - particularly useful and relevant during the current covid19 lockdowns. ForestVRTM 360 video experiences can be viewed by students using virtual reality headsets via YouTube links, but is just as effective as a learning tool using iPads, laptops/computers or smart phones.
360 virtual tours mirror the video experiences and allow students a chance to investigate more deeply each stage of the renewable wood lifecycle from seed to shelter using Roundme online tools. Students see the various stages of the sustainable forestry cycle and learn and investigate how forests are actively managed as a renewable resource. With sustainability as a cross-curricular priority, these tools are being used across a range of subject areas K-12 – science, geography, design and technologies, agriculture and more.

Phase two of ForestVR™, which has been made possible by funding from the Federal Government, will focus on using VR technology to educate students about forest and wood product themes including the uniqueness of Australian forests and their management, agroforestry, and a selection of the broad variety of career options in the industry. The second phase of ForestVR™ is currently in development and will experience some delays in filming due to various state lockdowns with a new launch time of 2021.
ForestLearning, being an integrated online one-stop-shop for teachers, is in a strong position to respond quickly to the emerging online requirements of Australia's schools.
Keep up to date on all new initiatives and resources by signing up to the ForestLearning e-news via our website www.forestlearning.edu.au, and like and follow us on Facebook @forestlearningau. And importantly, wash your hands, keep smiling and stay safe.