Forester Time presenters needed in 2020
19 June 2020
Forester Time - Join us as an industry presenter in 2020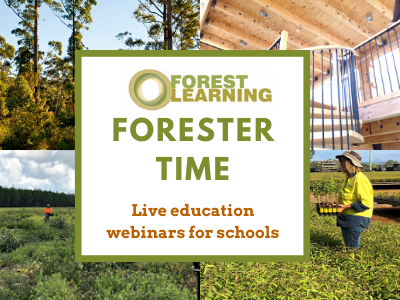 Express your interest to be a Forester time presenter here --> https://www.surveymonkey.com/r/Q8P8MPP

We are living in 'unprecedented times', and schools around Australia are too. The inability to take students on excursions, or host presenters in classrooms face to face, has created a unique opportunity for ForestLearning, an initiative of Forest and Wood Products Australia, and industry presenters to deliver innovative online learning webinars for schools around Australia - Forester Time - in terms 3 and 4 2020.

Forester Time aims to connect teachers, parents and students with real time forest and wood processing professionals via the online video conferencing tool 'Zoom Webinars' and invite industry presenters to help us share stories from the forests.

Background to Forester Time

In November 2019, more than 150 students from around Australia talked in real time with a forest worker out in the field - all without leaving their classroom. The 'Forester Time' initiative was run by ForestLearning and the Primary Industries Education Foundation Australia (PIEFA) as part of National AgDay, allowing students to chat in real time with a forester in their forest workplace to help them learn more about their daily work, the renewable cycle of forestry and where our wood and paper products come from. Foresters from Forico (Tasmania), South West Fibre (SWF) (Victoria), Green Triangle Forest Products (GTFP) (South Australia), and SFM Asset Management (South Australia) were involved in 20 minute sessions with a classroom via smart phone in their forest workplace. Teacher Sarah D. from the Katherine School of the Air said her students enjoyed learning more about sustainable plantation forests.
"Today's session with Kathryn the forester was outstanding," she said. "Students were amazed that there are farms for timber and all of the perks of being a forester. It was great to link what happens in the forest with how things happen in a cattle station. It really helped students understand and contextualise what was being said."

Forester Time 2020
Following a very successful pilot zoom webinar with Sustainable Timber Tasmania's Dion McKenzie and a class from Narrabundah College in mid-June 2020, ForestLearning is now able to offer these webinars more broadly to all schools who wish to participate.
Kylie H., teacher involved in the June 2020 pilot said of the webinar
"A HUGE thank you for making this happen and for your time. The webinar was great, the content spot on for us and the students all left bouncing out of the classroom! A very happy and engaged audience!".
Feedback from students was equally positive including
"I liked how the speaker really went into depth about all aspects of the job not just the sustainability part but also marketing and protecting.",
"I liked hearing how there are many different jobs within the forestry field".
"The single most valuable thing I learnt was hearing how there are different methods for harvesting timber depending on the specific requirements of the tree types"
Zoom webinars offer presenters greater versatility in providing 'virtual backgrounds' of forest workplaces whilst sitting in the comfort of their office or home, with full screen PowerPoint presentations to speak to - overcoming weather, OH&S and sound issues compared to in the field via smartphone. ForestLearning's manager Beth Welden is there to help presenters every step of the way from assisting with the development of PowerPoint presentations, technology trials, and to act as MC and co-host for each session.
ForestLearning is now in the process of developing a calendar of topics and speakers and is inviting foresters and professionals involved in forest and wood products to express their interest to be involved.
If you're a forest and wood product professional interested in joining us and becoming involved, please express your interest here --> https://www.surveymonkey.com/r/Q8P8MPP