ForestLearning Virtual Classrooms with George the Farmer a hit in Australian primary schools this semester!
01 November 2022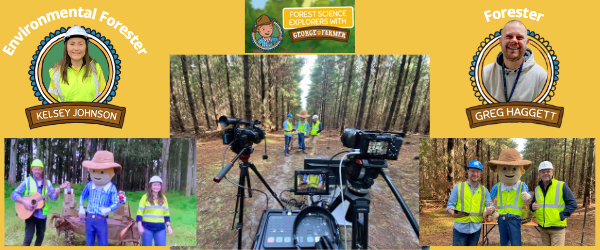 ForestLearning, George the Farmer and Kimberlin Education have been busy this semester working with Australian primary schools with the live streaming four virtual classrooms from the forests of Mount Gambier SA with Forester Greg Haggett of OneFortyOne Plantations and Environmental Forester Kelsey Johnson of PF Olsen.

More than 1500 primary aged students logged in from every state and territory to one of four 30-minute, curriculum-linked virtual classrooms for Years F – 4. Qualified teacher-facilitators from Kimberlin Education guided students through quiz questions and Q&As with ABC TV's George the Farmer providing interactive discussions, True and False live quizzes and performing the "Wood is Good for the World" song live with attending classes.
In Term 3 students tuned in for National Schools Tree Day and learnt how foresters are Australia's biggest tree planters – planting over 70 million trees each year!
They met forester Greg Haggett in the pine forest who manages the harvesting events in the pine plantations where he works. It's his job to ensure people can harvest wood safely, determine when the trees should be harvested as well as judge the quality of the trees that will go on to timber mills. Greg is knowledgeable and passionate about wood – the only carbon positive building material in the world. George the Farmer and hist mate Ben discovered more from Greg about where our wood comes and how we can be sure the wood grown in Greg's forests are sustainable and renewable.
In our most recent Term 4 Virtual Classroom, students met expert environmental forester Kelsey Johnson in a eucalypt hardwood plantation forest of Mount Gambier, South Australia, to explore where paper comes from, as well as the differences between pine plantations and eucalypt plantations.
Kelsey also uncovered how foresters protect and care for the animals and plants living in and around these plantations and the tools they use like nesting boxes and motion sensor cameras to spot and record wildlife. Students also learnt that an environmental forester looks after all of the areas of forest which are not the plantation trees – including the animals and native vegetation around plantation forest areas.
If you missed the last Virtual Classroom, you can always hit rewind! These live events were recorded and can be watched at any time from the ForestLearning website and YouTube/Vimeo channels.
For more Virtual Classrooms and to download the complete ForestLearning and George the Farmer Educators Toolkit, head over to the ForestLearning website resource section!