ForestVR Virtual Excursions overview
26 October 2020
Since launching in September 2019, the free to access ForestVR™ - Learn through Immersion toolkit for schools has allowed students from F-12 to experience forest and timber processing environments first-hand through the magic of virtual reality (VR).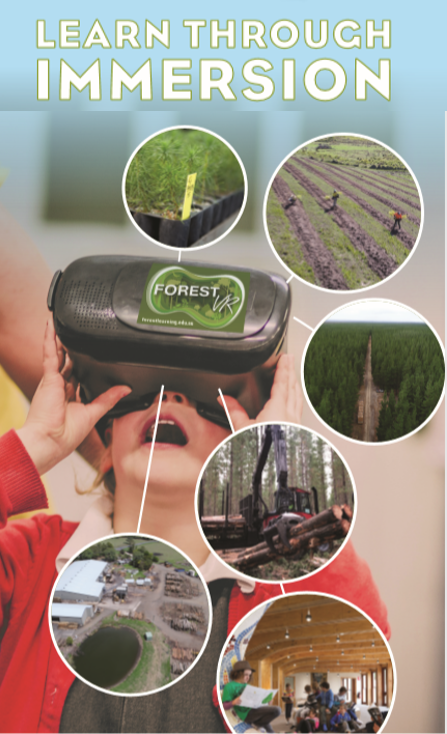 ForestVR toolkit for schools -
www.forestlearning.edu.au/forestvr
The ForestVR immersive technology comprises a series of 360-degree virtual photo tours and video experiences that educate students on the renewable cycle of forestry and where our wood comes from in an engaging, immersive way.
The virtual reality technology has overcome problems relating to the inaccessibility of physical forests and wood processing facilities during covid-19 restrictions and also the inability to visit the entire journey of where our wood comes from Seed to Shelter due to logistics, costs and workplace OH&S.
ForestVR 360-degree video experiences and photo tours can be viewed by students using virtual reality headsets via YouTube links, but is just as effective as a learning tool using iPads, laptops/computers, or smart phones.
360-degree virtual photo tours mirror the 360-degree video experiences and allow students to investigate more deeply each stage of the renewable wood lifecycle from 'seed to shelter' using Roundme online tools. Students can explore the various stages of the sustainable forestry cycle and learn and investigate how forests are actively managed as a renewable resource.
The seven stages of the forest and wood cycle that are explored in ForestVR include: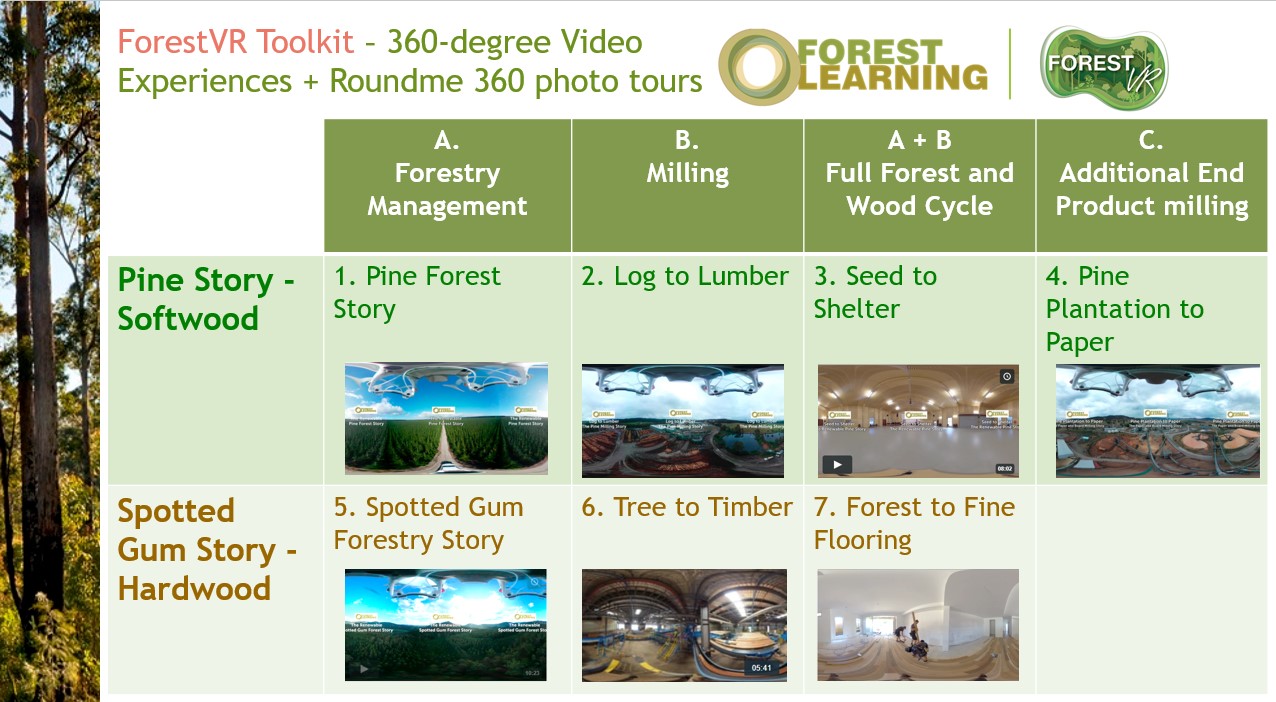 Background to the ForestVR Toolkit for schools
ForestVR and its accompanying teaching resources was developed and designed through collaboration with ForestLearning, the Geography Teachers Association Victoria, the Design and Technology Teachers Association Victoria, successful early adopters of VR in classrooms and leading forest and wood product industry partners.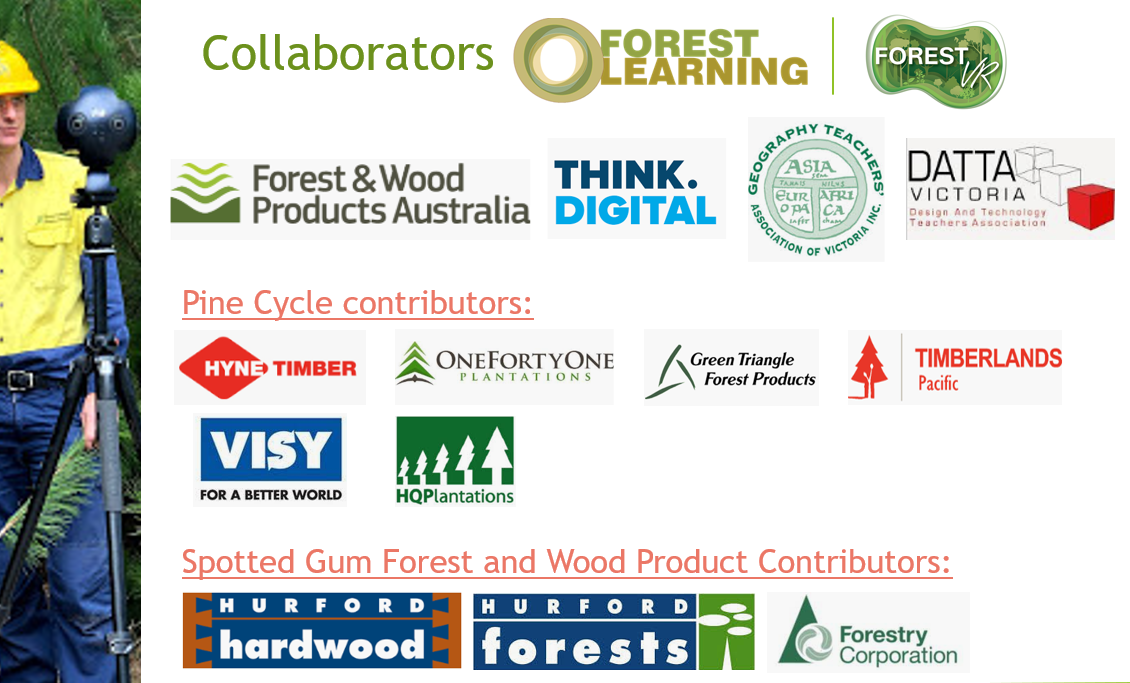 Where are forests located for the filming of the ForestVR?

ForestVR was filmed at 28 different locations across Australia to capture the complete 'Seed to Shelter' journey and tracks the complete journey of where our wood comes from. The journey from seed to shelter focusses on the two main timber types used in building and furnishings – softwood (pine) and hardwood (eucalypt). Therefore, the case studies for Pine and Spotted Gum have applications and relevance for all regions and renewable timber cycles around Australia.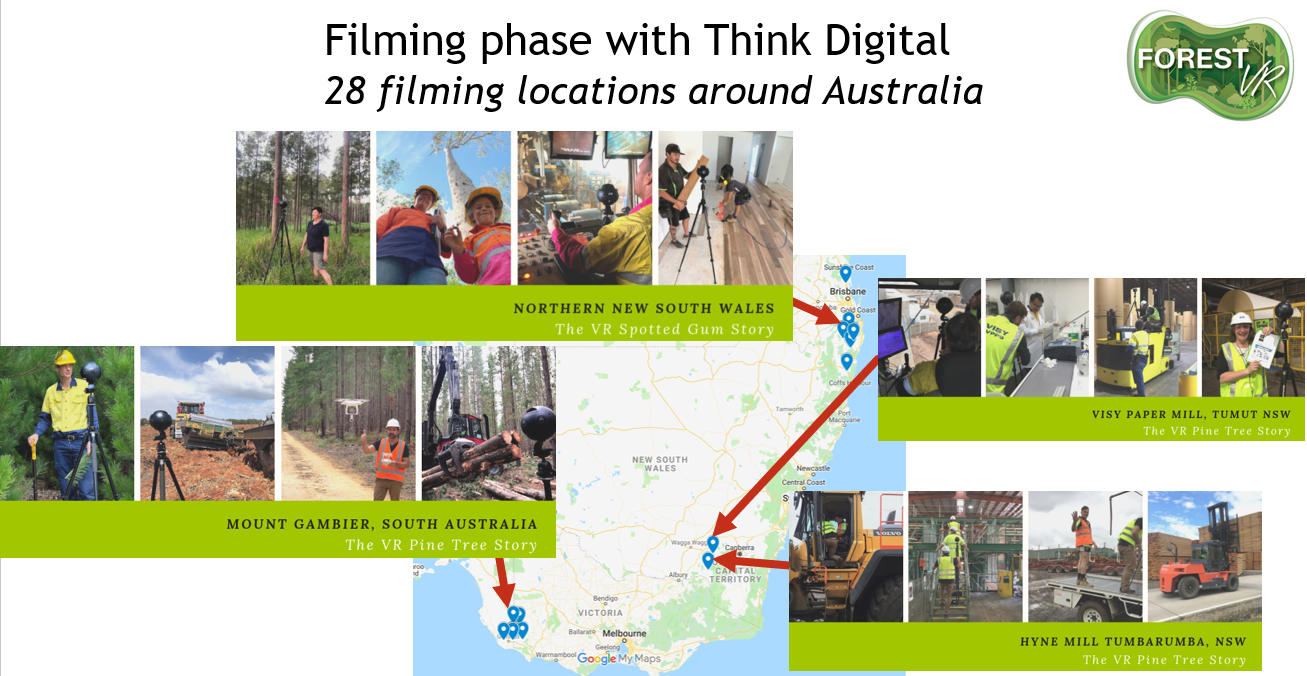 The benefits of using Virtual Reality in the classroom

Virtual reality has truly overcome problems around the inaccessibility of visiting physical forests and wood processing facilities - particularly useful and relevant during the current Covid-19 lockdowns. Many of the benefits as outlined below include providing engagement and interest, it is safe, practical components are highlighted, all VR content provides links to the curriculum and is already showing greater student interaction and engagement compared to traditional multimedia videos. Virtual Reality can also be useful as a pre- or post-excursion tool to forests, or as a replacement to an excursion during covid-19 restrictions.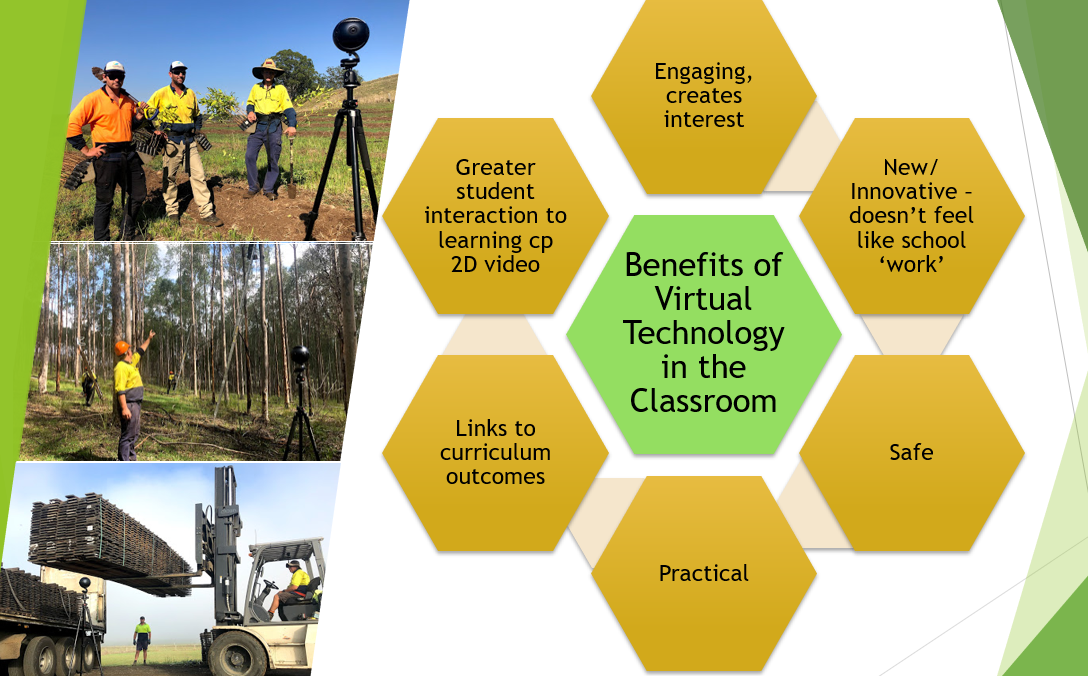 ForestVR Applications within classrooms

ForestVR has been developed by teachers for teachers as a practical tool to use when exploring a variety of topics and themes. With sustainability as a cross-curricular priority, these tools are being used across a range of subject areas and year levels K-12 including science, geography, design and technologies, agriculture and more. An example of the use of ForestVR within a Geography classroom is outlined in the table below: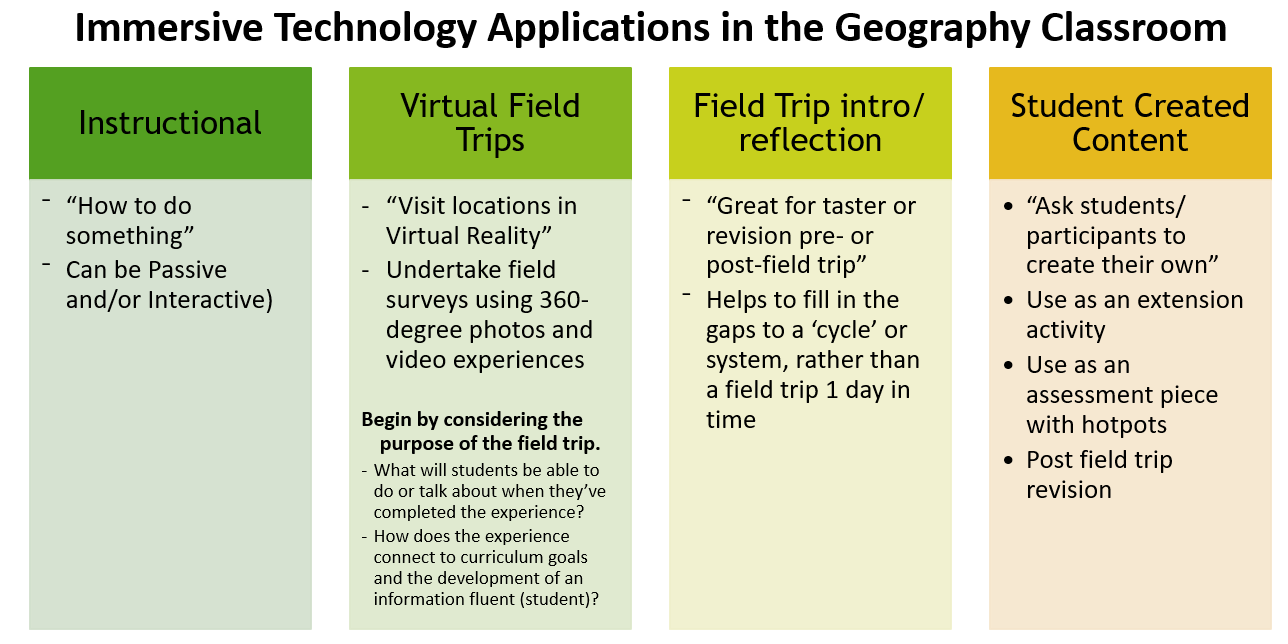 Teaching tools available with ForestVR

The ForestVR virtual reality toolkit is soon to be launching teaching toolkits including teaching and learning resources, PowerPoint presentations per lesson and online Video Tutorials for
Level 8 and 10 Geography
Level 9 Design and Technologies
Level 5/6 Cross-curricula Geography and Design and Technology unit.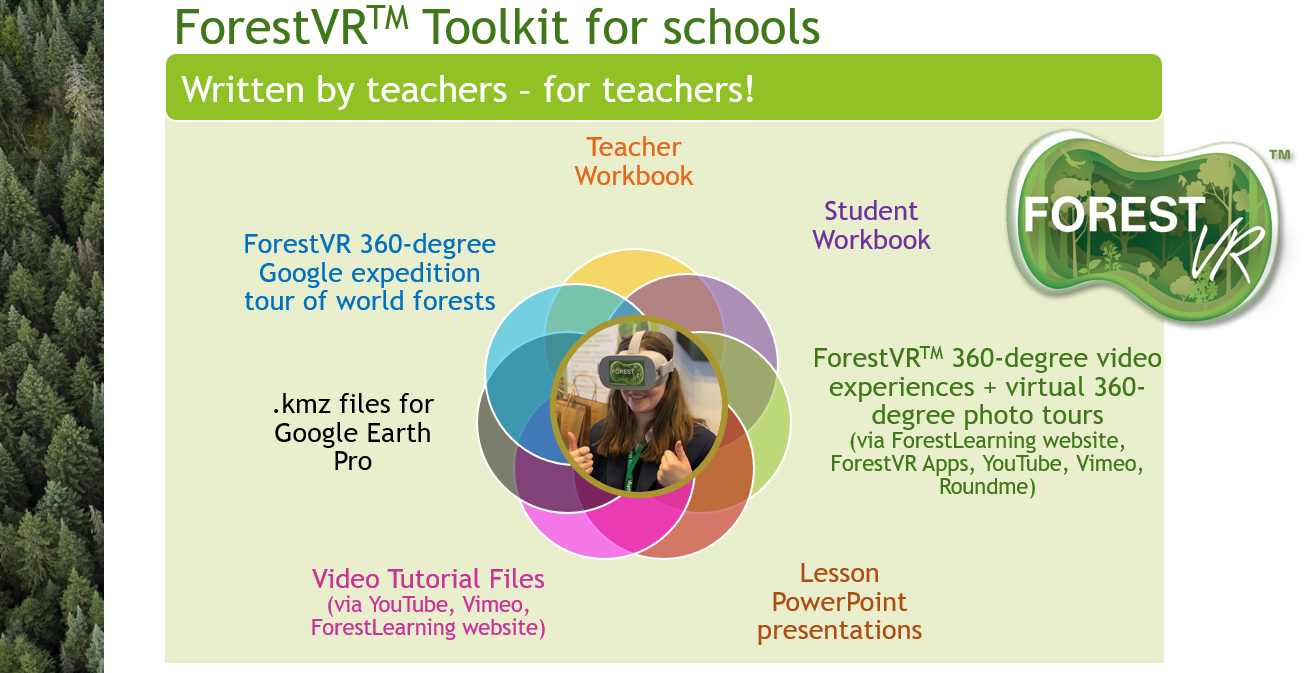 All teaching and learning resources will be launched on the ForestLearning website and news of their release will be via the ForestLearning e-news (subscribe here: www.forestlearning.edu.au) and ForestLearning Facebook page. Follow ForestLearning on Facebook or LinkedIn to stay informed: www.facebook.com/forestlearningau and www.linkedin.com/company/forestlearning.
How can I use it in my classroom – what tech do I need?

Content and experiences within the app can be viewed using tablets, laptops, smart board or VR headsets, making it accessible in all classroom and home learning situations. The ForestVR app offers a range of extra classroom friendly functionality for ease of delivery for teachers including a sync function to allow you as a teacher to start, pause and stop experiences for the whole class, map locations of all 360-degree environments (photos) feature, and the ability to save a lesson's required experiences and photos to favourites for easy accessibility.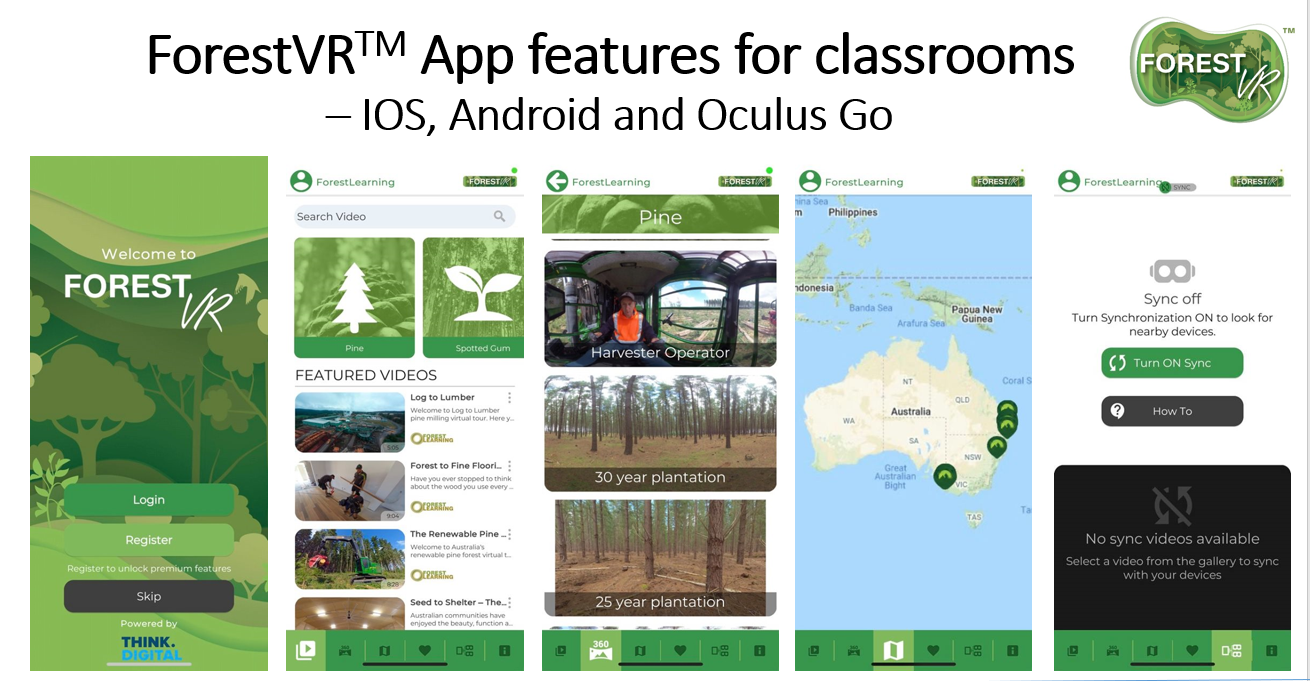 Where can I access ForestVR?

The ForestVR™ toolkit is free to access for Australian schools via the following links. Alternatively, teachers can download the one-stop-shop newly launched ForestVR app that houses all content as well as providing additional classroom friendly functionality.
The 360-degree video experiences can also be viewed on:
Phase 2 of ForestVR
Phase two of ForestVR™, which has been made possible by funding from the Federal Government, will focus on using VR technology to educate students about the uniqueness of Australian forests and their management, agroforestry, and a selection of career pathways found in the forest and wood products industry. The second phase of ForestVR™ is currently in development with a new launch time of 2021.