New opportunities for geography teachers to transport Year 10 students into the forest

30 May 2022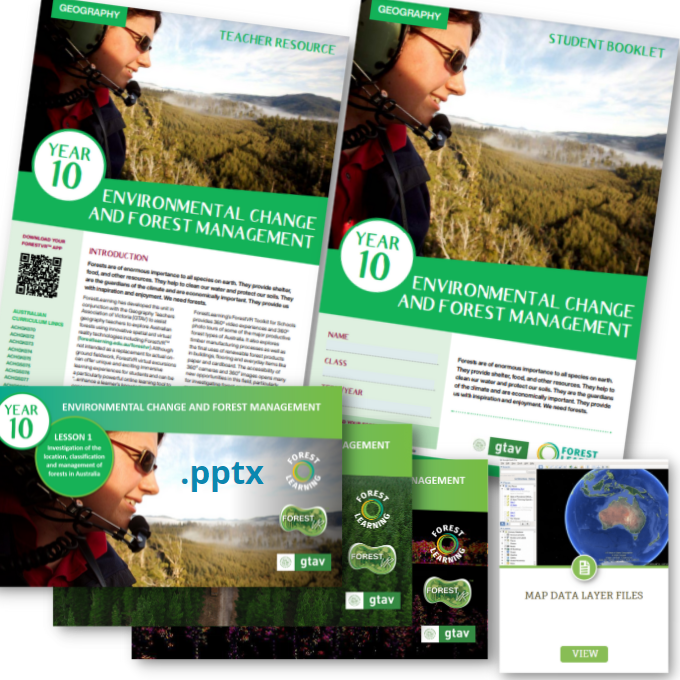 A new suite of teaching resources, designed by Geography teachers for Geography teachers, is helping to educate Year 10 students about Australia's special forest landscapes, environmental change, and the use of geospatial technology in supporting sustainable forest management practices.
The ForestVR™ toolkit for schools enables students to tour, spatially explore and examine the heart of Australia's forests, through the wonders of immersive learning and innovative spatial virtual reality (VR) technologies.
The new Year 10 Environmental Change and Forest Management teaching and learning toolkit has been developed by the Geography Teachers Association of Victoria (GTAV) in conjunction with ForestLearning, to complement and enhance the existing ForestVR™ experiences.
Toolkit resources include teacher guides, interactive student PDF workbooks for print or online learning, lesson-by-lesson PowerPoint slide decks, KMZ/KML files for spatial mapping exercises, and accompanying online video tutorials.
"Although not intended as a replacement for actual on-the-ground fieldwork, ForestVR™ excursions offer unique and exciting immersive experiences for students, and can be a particularly powerful online learning tool," said Beth Welden, ForestLearning Program Manager.
"We're excited to be launching these new resources, that will allow teachers to take the existing VR experiences to the next level, and create an even greater impact for students."
The new Environmental Change and Forest Management teacher toolkit covers five lessons:
Investigation of the location, classification and management of forests in Australia
Australia's timber plantations
Using data and technology to manage forests
Forest cover change
How does Australia's forestry practice compare with Brazil?
The ForestVR™ immersive technology comprises a series of 360-degree virtual photo tours and video experiences that educate students on the renewable cycle of forestry and where our wood products come from.
Since launching in 2019, ForestLearning's ForestVR™ experiences have allowed students from F-12 to take VR tours of some of the major productive forest types found in Australia, as well as timber processing facilities and mills. Beyond this, by participating they learn about the uses of renewable forest products in buildings, flooring and everyday items like paper and cardboard.
The technology allows students to investigate each stage of the renewable wood lifecycle from 'seed to shelter'. They will discover how forests achieve certification as 'sustainably managed', and protect the environment including trees, plants, animals, waterways, and areas of cultural significance such as Indigenous Australian cultural sites.
ForestLearning's ingenious use of VR technology has helped teachers overcome problems relating to the inaccessibility of physical forests and wood processing facilities, as has been particularly relevant during COVID-19 restrictions. It has also helped overcome some of the logistical transport, costs, and health and safety issues associated with visiting real-life forests and timber processing facilities.
"With sustainability as a cross-curricular priority, the ForestVR™ video experiences and photo tours will be beneficial not only for Geography teachers, but can also be used in many other subject areas to help bring Australia's forests to life for students," said Beth.
Find out more or download the toolkit at https://forestlearning.edu.au/resources/geography-year-10-environmental-change-and-forest-management
Further teacher toolkits for Level 8 Geography, Level 9 Design and Technologies, and Level 5 and 6 cross-curricula Geography, and Design and Technology units are to be released in time for Semester 2, 2022.
ForestVR™ experiences and teaching resources are free at the ForestLearning website – forestlearning.edu.au – and the VR experiences can be viewed using a VR Headset, or just as easily using an iPad or laptop either from the ForestLearning website or via the ForestVR App for IOS and Apple.
Back to News & Events