Drones in Forestry – Classroom Poster pdf
Lesson Overview:
** WINNER – 2022 Australian Geography Teachers Association Awards **

Awarded Best DIGITAL/ONLINE RESOURCE


AGTA Awards Review:
The ForestLearning and She Maps 'Drones in
Forestry' units dynamically engage with
emerging technology for a contemporary
learning experience for all students. The
significant support and resourcing attached to
the unit empowers teachers to implement
contemporary geographic tools in their
curriculum, underpinned by strong vocational
links

Dr Susan Caldis

Chairperson of AGTA Board
DRONES are excellent for taking high-quality aerial photographs and videos when you go on trips, but have you seen how drones are being used every day in forestry?
Drones and Geographic Information Systems (GIS) are already a part of sustainable forestry management. They inform real-time decision making and planning and also ensure the safety of forestry employees.
ForestLearning and She Maps have been creating a series of case studies, StoryMaps and teaching resources that will allow students to explore and understand:
✅ How drones and GIS are supporting the forestry industry
✅ Which careers are involved in this technology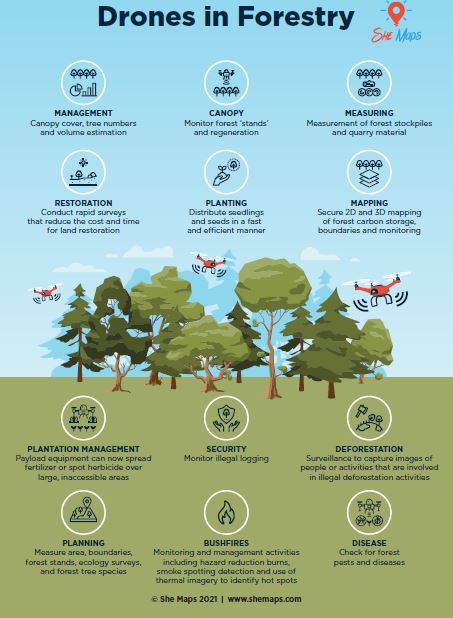 For more information and to download full teaching and student resources head to:
This poster, and the associated Drones in Forestry education toolkits have been developed by She Maps and ForestLearning – Copyright 2022.
For more information on the Drones in Schools and Drones in Forestry programs run by She Maps click here.
Year Level/s:
Key Curriculum Areas / Subject:
National Curriculum Codes:
Strand Content Description:
N/A
General Capabilities:
Cross Curriculum Priorities:
Curriculum Connections:
ScOT Catalogue Terms:
Theme/s:
Resource Type/s:
Back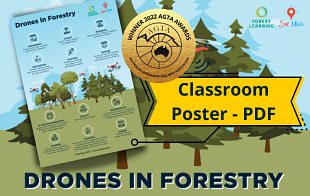 teacher Resource
Drones in Forestry - Classroom Poster pdf
Downloadable classroom poster examining the role of drones in forestry and sustainable forest management.
File Size: 215.73 KB
File Type: pdf
Login