Drones in Forestry – Years 9-10
Lesson Overview:
** WINNER – 2022 Australian Geography Teachers Association Awards **

Awarded Best DIGITAL/ONLINE RESOURCE

AGTA Awards Review:
The ForestLearning and She Maps 'Drones in
Forestry' units dynamically engage with
emerging technology for a contemporary
learning experience for all students. The
significant support and resourcing attached to
the unit empowers teachers to implement
contemporary geographic tools in their
curriculum, underpinned by strong vocational
links

Dr Susan Caldis

Chairperson of AGTA Board
Welcome to Drones in Forestry – a fun, highly engaging, technology rich cross-curricular Digital Technologies and Geography unit that allows students to explore and understand how drones and Geographic Information systems (GIS) assist forestry workers to manage the forest environments that provide sustainable resources for society. They will learn through the use of systems thinking, research digital systems in forestry and understand how they are managed considering environmental, social, economic and technical factors. Students will research and present a case study of how a forestry worker uses drones and digital systems and present this information in the form of a website. They will then complete a simulated forestry drone mission.
By completing all modules in this unit, students will:
1. Understand systems thinking
2. Analyse the environmental, social and economic impact of digital systems in Forestry
3. Develop a Digital Systems in Forestry Report for potential clients or financial backers including a risk assessment plan.
4. Research content, source assets and develop a website using HTML and CSS to present a case study of a Forestry worker
5. Design, define and implement a manual flight plan in a simulated forestry training environment
6. Define, design and implement code to demonstrate automated drone flight in a simulated forestry situation.
Through the unit, students will:
learn the different ways that digital systems assist Australian foresters,
design and implement their own drone mission to solve a forestry problem, and
design and create a game-like app to reinforce understanding of drone mapping and STEM concepts.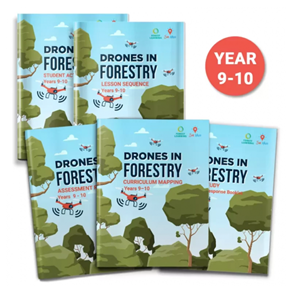 The Teaching and Learning resources consist of Australian Curriculum mapped lesson sequences with supporting resources and assessment rubrics. The unit has been designed in discrete modules to cater for equipment access, time constraints and curriculum requirements.
The Years 9-10 Drones in Forestry resource an either be downloaded using the Teacher Resource Box to the right, or individually downloaded via the hyperlinks below:

Lesson sequence with hyperlinks to supporting resources
Assessment rubrics mapped to the Australian Curriculum Achievement Standards
Student response booklets:
Student activity sheets – Digital Systems in Forestry – IPO Activity and Group Research Task Sheet
StoryMaps- interactive visual web-based guides with engaging embedded videos, including ForestVR 360o videos, and maps.
Accompanying supporting documents such as:


These resources
enable teachers to complete the curriculum-aligned activities in their classroom
cater to varied student ability, learning styles, and resource availability.
are provided free for teachers to access and download
are novel and relate to real-world industry scenarios
are nationally applicable
have been developed in partnership with She Maps, ForestLearning and with support from peak forestry industry organisations.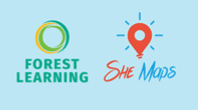 Year Level/s:
Key Curriculum Areas / Subject:
National Curriculum Codes:
ACAVAM111,
ACHGK060,
ACHGK061,
ACHGK062,
ACHGK070,
ACHGK073,
ACHGK074,
ACHGK075,
ACHGS063,
ACHGS064,
ACHGS067,
ACHGS068,
ACHGS070,
ACHGS071,
ACHGS072,
ACHGS073,
ACHGS076,
ACHGS077,
ACHGS079,
ACHGS080,
ACTDIK034,
ACTDIK035,
ACTDIP036,
ACTDIP038,
ACTDIP039,
ACTDIP040,
ACTDIP041,
ACTDIP042,
ACTDIP043,
ACTDIP044
Strand Content Description:
N/A
General Capabilities:
Cross Curriculum Priorities:
Curriculum Connections:
ScOT Catalogue Terms:
Environment,
Environmental Impact,
Environmental Management,
Environmental Sustainability,
Forest management,
Forestry,
Forests,
Geographical Information Systems,
Renewable Resource,
Spatial Technologies,
Technologies,
Technology
Theme/s:
Resource Type/s:
Back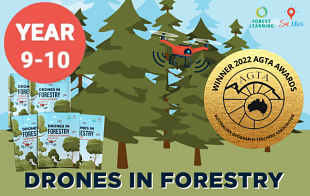 teacher Resource
Drones in Forestry - Years 9-10: ALL FILES - Teacher + Student
This Zip folder contains all Teacher + Student resource files including Lesson Sequence, Assessment Rubrics, Australian Curriculum mapping document, Student Response Booklets & Activity Sheets.
File Size: 19.40 MB
File Type: zip
Login