Geography Year 10: Environmental Change and Forest Management
Lesson Overview:
 ** HIGHLY COMMENDED – 2022 Australian Geography Teachers Association Awards **

DIGITAL/ONLINE RESOURCE



AGTA Awards Review:
ForestLearning and GTAV's Year 10,
Envrionmental Change and Forest
Management unit is a commendable
resource in that it closely aligns with
the Australian Curriculum for Year 10
Geography with free resources and a
supported approach to embedding
virtual reality and interactive resources
into the classroom. The high number
of positive teacher feedback comments
reflect the discerning quality of this resource.


Dr Susan Caldis

Chairperson of AGTA Board
YEAR 10 EDUCATORS TOOLKIT – GEOGRAPHY
Download the various components of the toolkit for your year 10 Geography classroom including: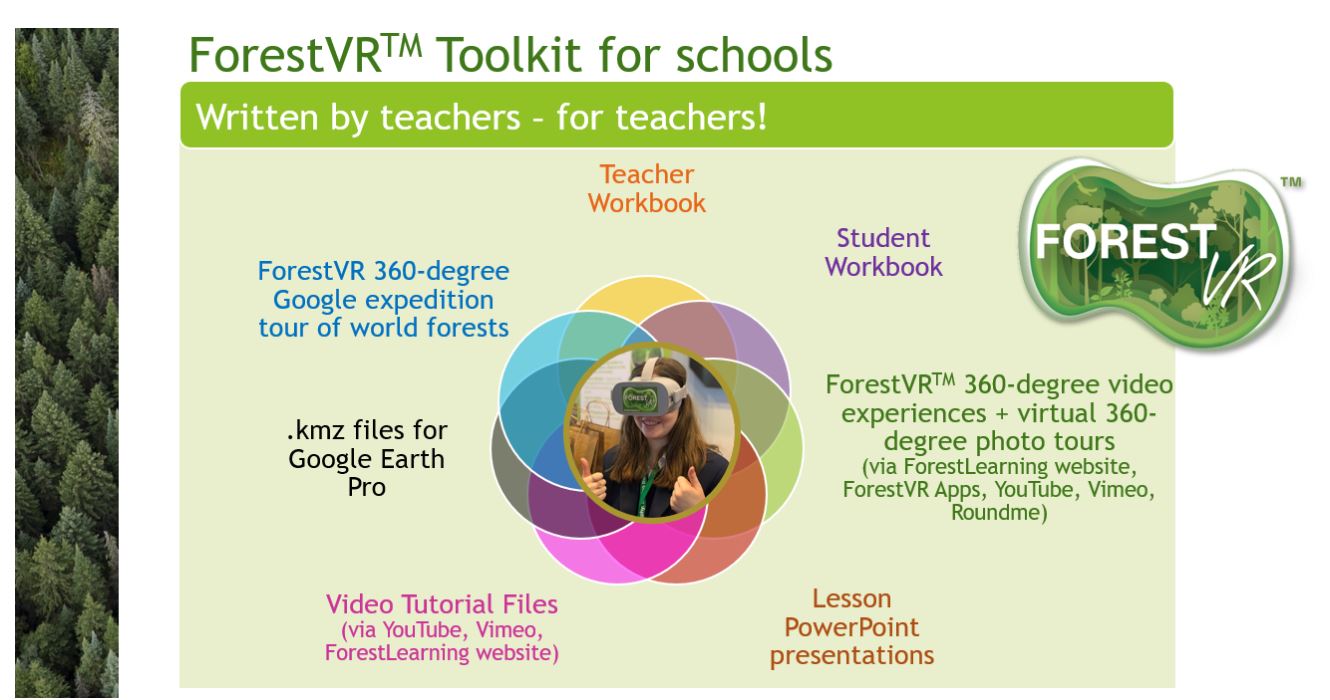 RESOURCE BACKGROUND:
Forests are of enormous importance to all species on earth. They provide shelter, food, and other resources. They help to clean our water and protect our soils. They are the guardians of the climate and are economically important. They provide us with inspiration and enjoyment. We need forests.
ForestLearning has developed this unit in conjunction with the Geography Teachers Association of Victoria (GTAV) to assist
geography teachers to explore Australian forests using innovative spatial and virtual reality technologies including ForestVRTM (forestlearning.edu.au/forestvr).
Although not intended as a replacement for actual onground fieldwork, ForestVR virtual excursions can offer unique and exciting immersive learning experiences for students and can be a particularly powerful online learning tool to "…enhance a learner's knowledge of spatial concepts" (Southgate, 2020).
ForestLearning's ForestVR Toolkit for Schools provides 3600 video experiences and 3600 photo tours of some of the major productive forest types of Australia. It also explores timber manufacturing processes as well as the final uses of renewable forest products in buildings, flooring and everyday items like paper and cardboard. The accessibility of 3600 cameras and 3600 images opens many new opportunities in this field, particularly for investigating forest environments and management.
DOWNLOAD YOUR FORESTVRTM APP HERE – https://forestlearning.edu.au/forestvr
LESSON SEQUENCE
Lesson 1
INVESTIGATION OF THE LOCATION, CLASSIFICATION AND MANAGEMENT OF FORESTS IN AUSTRALIA
ACTIVITIES:
1 Is it a Forest? Gameshow
2 Forests of Australia
3 Digital Maps
Lesson 2
AUSTRALIA'S TIMBER PLANTATIONS
ACTIVITIES:
1 Australian Plantations at a glance
2 Softwood pine plantations
3 Statements about forestry and their implications for sustainability
4 Forest plantation location and management
Lesson 3
USING DATA AND TECHNOLOGY TO MANAGE FORESTS
ACTIVITIES:
1 Using Geographical Information Systems in sustainable forestry
2 Recent innovations for forestry inventory and data capture
3 Data interpretation
Lesson 4
 FOREST COVER CHANGE
ACTIVITIES:
1 Introductory activity – Forest cover change
2 Main activity – Forest cover change
3 Final activity – Wildlife corridors
Lesson 5
HOW DOES AUSTRALIA'S FORESTRY PRACTICE COMPARE WITH BRAZIL?
ACTIVITIES:
1 Starter activity – Using Venn diagrams for analysis
2 Main activity – Analysing the social, environmental, and economic impacts of various forest management practices
3 Summary activity – Sustainable forest practices reflection
Year Level/s:
Key Curriculum Areas / Subject:
National Curriculum Codes:
Strand Content Description:
N/A
General Capabilities:
Cross Curriculum Priorities:
Curriculum Connections:
ScOT Catalogue Terms:
Environment,
Environmental Impact,
Environmental Influences,
Environmental Management,
Environmental Sustainability,
Forest Fires,
Forest management,
Forest-land conversion,
Forestry,
Forests,
Geographical Information Systems,
Geographical Location,
Maps,
Spatial Technologies
Theme/s:
Resource Type/s:
Back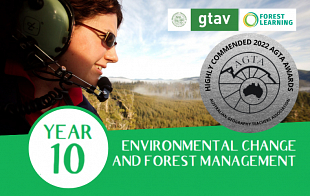 teacher Resource
Environmental Change and Forest Management - TEACHER GUIDE
This Teacher guide supports the Year 10 Environmental Change and Forest Management lessons and includes responses. Teacher Tips and reference to the PowerPoint slide decks are also included.
File Size: 10.34 MB
File Type: pdf
Login
student Resource
Environmental Change and Forest Management - STUDENT WORKBOOK
An interactive PDF resource for students to work through the Year 10 Environmental Change and Management lesson sequence.
File Size: 2.62 MB
File Type: pdf
Login
teacher Resource
Lesson 1 PowerPoint Slide Deck - Environmental Change and Forest Management YR 10
An accompaniment PowerPoint slide deck for Lesson 1: Year 10 Environmental Change and Forest Management
File Size: 54.14 MB
File Type: pptx
Login
teacher Resource
Lesson 2 PowerPoint Slide Deck - Environmental Change and Forest Management YR 10
An accompaniment PowerPoint slide deck for Lesson 2: Year 10 Environmental Change and Forest Management
File Size: 7.84 MB
File Type: pptx
Login
teacher Resource
Lesson 3 PowerPoint Slide Deck - Environmental Change and Forest Management YR 10
An accompaniment PowerPoint slide deck for Lesson 3: Year 10 Environmental Change and Forest Management
File Size: 8.11 MB
File Type: pptx
Login
teacher Resource
Lesson 4 PowerPoint Slide Deck - Environmental Change and Forest Management YR 10
An accompaniment PowerPoint slide deck for Lesson 4: Year 10 Environmental Change and Forest Management
File Size: 44.75 MB
File Type: pptx
Login
teacher Resource
Lesson 5 PowerPoint Slide Deck - Environmental Change and Forest Management YR 10
An accompaniment PowerPoint slide deck for Lesson 5: Year 10 Environmental Change and Forest Management
File Size: 1.11 MB
File Type: pptx
Login