George the Farmer Forestry – Complete Educators Toolkit
Lesson Overview: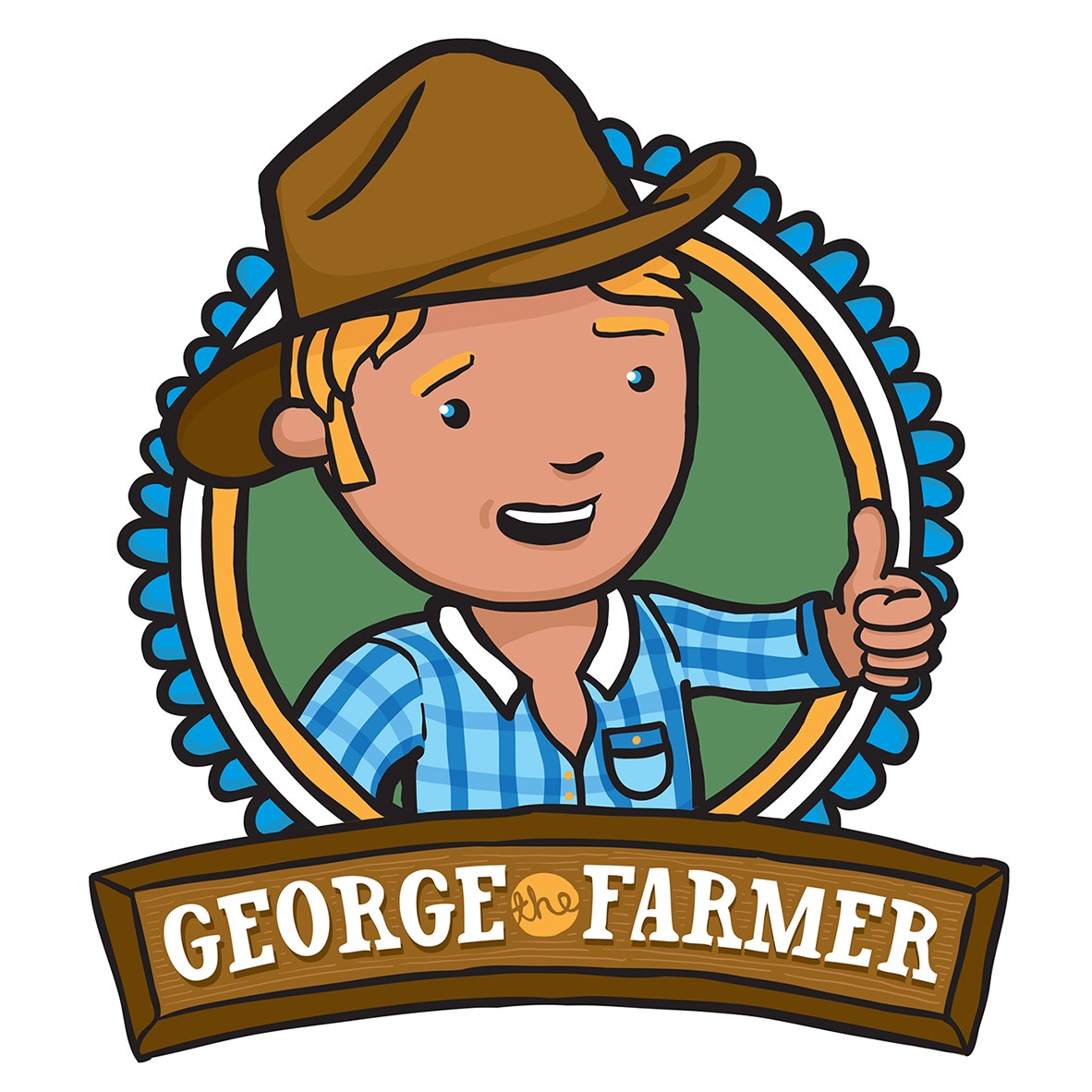 Join with our friend George the Farmer and explore Australia's sustainable forests together!

YEARS F-4 EDUCATOR TOOLKIT
LESSONS AND ACTIVITIES
SUSTAINABLE FOREST MANAGEMENT
ForestLearning has joined with their good friend George The Farmer to produce this edition of Forestry Educators Toolkit for lower primary students.Join George the Farmer as he explores and discovers more about where our timber comes from through practical hands-on classroom, or home learning, activities including:
– Where does our wood and paper products come from?
– Sustainable Development Goals
– Get into Advertising
– De Bono's Six Hat Thinking exploring an issue from
multiple viewpoints
– how are plantation forests managed?
– The big school tree count!
– A changing climate
– Plant trees – get ready to get your hands dirty!
PINE PLANTATION FORESTRY*
This George the Farmer Educational Resource aims to raise awareness about plantation forests resources, management, the interrelationships within plantation forests, and farming forests.
---
GEORGE THE FARMER FORESTRY VIDEO*
---
GEORGE THE FARMER FORESTRY – VR EXPERIENCE*
---
F-4 FOREST SCIENCE EXPLORERS VIRTUAL CLASSROOMS – with GEORGE THE FARMER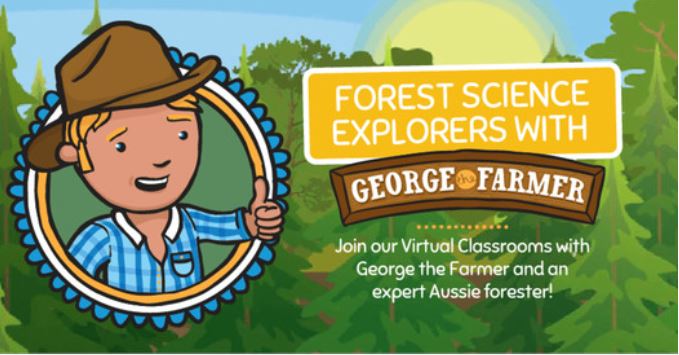 1. VIRTUAL CLASSROOM WITH GEORGE THE FARMER and EXPERT FORESTER CLINTON SIM
Join George the Farmer and expert forester Clinton Sim in the pine plantation forests of Mount Gambier, South Australia! The 30-minute recorded session is curriculum-linked for students in years F – 4. Our qualified teacher-facilitator from Kimberlin Education will provide plenty of interaction opportunities for your class, including quiz questions and Q&As with ABC TV's George the Farmer!
LOG-in to learn about:
Where does wood and paper come from?
What do foresters do?
What is the lifecycle of trees and are they all the same?
Why is the sustainable management of forests important?
YouTube URL: https://youtu.be/zrrrgyE9Ld4?list=PLxQhlOdRdLUMvZZKSNewqAi5__cP-rItL
2. VIRTUAL CLASSROOM with GEORGE THE FARMER and EXPERT TECH FORESTER SARAH MADDISON
ForestLearning is excited to invite your class to log-in to this recording of their virtual classroom on forests, the renewable resource of wood, and introducing some of the high tech used to manage forests like drones!
Hosted by a qualified teacher, this 30 minute curriculum-linked session provides a perfect introduction to topics such as
Where does our wood and paper come from,
What does a forester do,
What is a renewable resource,
What is the lifecycle of a tree,
and What role does technology play in the forestry industry.
YouTube URL: https://youtu.be/w62XRvegBok?list=PLxQhlOdRdLUMvZZKSNewqAi5__cP-rItL
*****************
* These resources were produced by George the Farmer Pty Ltd for Primary Producers SA (PPSA).
This project is supported by the Department of Agriculture, Water and the Environment,
through funding from the Australian Government's Educating Kids about Agriculture initiative.
Year Level/s:
Key Curriculum Areas / Subject:
National Curriculum Codes:
ACAVAM118,
ACHASSK015,
ACHASSK031,
ACMMG006  ,
ACMMG061,
ACMMG064,
ACMMG084,
ACMMG089,
ACMMGO41,
ACMNA013,
ACMNA014,
ACMNA051,
ACMNA071,
ACMSP048,
ACMSP049,
ACMSP050,
ACMSP069,
ACMSP096,
ACSHE013,
ACSHE021,
ACSHE022,
ACSHE034,
ACSHE035,
ACSHE050,
ACSHE051,
ACSHE061,
ACSIS024,
ACSIS025,
ACSIS026,
ACSIS027,
ACSIS029,
ACSIS037,
ACSIS038,
ACSIS039,
ACSIS040,
ACSIS042,
ACSIS212,
ACSIS213,
ACSSU002,
ACSSU018,
ACSSU030,
ACSSU031,
ACSSU044,
ACSSU072,
ACSSU073,
ACSSU211,
ACTDEK001,
ACTDEK003,
ACTDEK010,
ACTDEK012,
ACTDEP005,
ACTDEP006,
ACTDEP007,
ACTDEP008,
ACTDEP009,
ACTDEP015,
ACTDEP016,
ACTDEP017,
ACTDEP018
Strand Content Description:
N/A
General Capabilities:
Cross Curriculum Priorities:
Curriculum Connections:
ScOT Catalogue Terms:
Adaptation,
Attitudes,
Carbon,
Carbon capture,
Carbon cycle,
Carbon Sequestration,
Climate Change,
Creating Texts,
Critical Thinking,
Data Analysis,
Data Collections,
Ecosystems,
Environmental Management,
Ethics,
Eucalypts,
Forest management,
Forestry,
Forests,
Habitats,
Living Things,
Native Species,
Plantations,
Renewable Resource,
Science,
Sustainability,
Technology
Theme/s:
Carbon,
Careers,
Climate Change,
Ed Tech - Virtual Reality,
Forestry,
Forests,
George the Farmer,
National School Events,
Outdoor Learning,
Renewable Resources,
Sustainability,
Trees,
Visual Arts,
Wood/Fibre
Resource Type/s:
Back