Is it a Forest? – Gameshow
Lesson Overview:
Use this PowerPoint slide show to play "Is it a Forest" in your classroom!
Complete with forest and non-forest photos, try your student's out as to what makes a forest. Perfect for introducing concepts around forests, mapping, distributions, landscapes, sustainability, environmental adaptations and more! All forests are then used within the forests of Australia distribution map to show where they are found around Australia.
Acknowledgement – Thanks to our friends at the University of Melbourne, School of Environment for providing the inspiration for this gameshow.
Year Level/s:
Key Curriculum Areas / Subject:
National Curriculum Codes:
ACHASSK031,
ACHGK048,
ACHGK060,
ACHGK061,
ACHGK070,
ACHGK073,
ACHGK074,
ACHGK075,
ACHGS063,
ACSSU043,
ACSSU044,
ACSSU072,
ACSSU094,
ACSSU111,
ACSSU112,
ACSSU176
Strand Content Description:
N/A
General Capabilities:
Cross Curriculum Priorities:
N/A
Curriculum Connections:
ScOT Catalogue Terms:
Theme/s:
Resource Type/s:
Back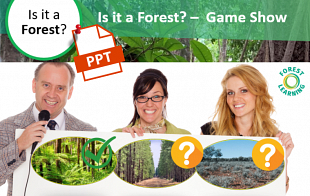 teacher Resource
Is it a Forest? – Game Show PPT
Play the "IS IT A FOREST?" Game show PowerPoint in your classroom to discover what makes Australia's forests - forests!
File Size: 11.71 MB
File Type: pptx
Login