Primary School Activity Book
Lesson Overview:
This lesson book contains sustainability activities and forest lesson plans that target year 3-6 primary students.
These lesson ideas and forest activities for children are specifically designed to allow maximum flexibility when teaching sustainability in primary schools.
You will need to download the photo bank to accompany this teaching resource.
http://www.pir.sa.gov.au/__data/assets/pdf_file/0004/79654/Forestry_Matters_-_Photo_File.pdf
Year Level/s:
Key Curriculum Areas / Subject:
National Curriculum Codes:
ACAVAM110,
ACAVAM111,
ACAVAM112,
ACAVAM114,
ACAVAR117,
ACMMG084,
ACMMG108,
ACPMP043,
ACPMP061,
ACTDEK013,
ACTDEP025,
ACTDEP028
Strand Content Description:
N/A
General Capabilities:
Cross Curriculum Priorities:
Curriculum Connections:
ScOT Catalogue Terms:
Aboriginal Art,
Agriculture,
Composition,
Conventions,
Fibres,
Fundamental Movement Skills,
Length,
Measuring Instruments,
Metres,
Symbols,
Tools,
Torre Strait Islander Art,
Visual Arts
Theme/s:
Biodiversity,
Careers,
Environment,
Forest Products,
Forestry,
Forests,
Incursions/Excursions,
National School Events,
Outdoor Learning,
Sustainability,
Trees,
Wood/Fibre
Resource Type/s:
Back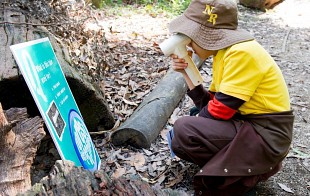 student Resource
Primary School Activity Book
Primary School Activity Book
File Size: 999.52 KB
File Type: pdf
Login