Queensland 2019 Agriculture Syallbus Alignment with ForestLearning Resources
Lesson Overview:
This document provides a ForestLearning curriculum scan of current resources available on the ForestLearning webpage for alignment to the new Queensland Agricultural Science Syllabus. Links to the Biology, Chemistry and Earth and Environmental Science Syllabuses are mentioned specifically.
Year Level/s:
Key Curriculum Areas / Subject:
N/A
National Curriculum Codes:
N/A
Strand Content Description:
N/A
General Capabilities:
Cross Curriculum Priorities:
Curriculum Connections:
ScOT Catalogue Terms:
N/A
Theme/s:
N/A
Resource Type/s:
Back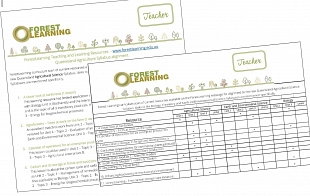 teacher Resource
ForestLearning 2019 Agriculture, Biology and EES Syllabus Curriculum scan alignment
Quick reference ForestLearning resources to Queensland Science subjects to see how you can use them in your Queensland classroom. Resources are dot coded to align to Agriculture Science, Biology and Earth and Environmental Science.
File Size: 0 bytes
File Type:
Login
teacher Resource
ForestLearning 2019 Agriculture, Biology and EES Syllabus Curriculum scan description
Read descriptions as to how ForestLearning resources align to the 2019 Queensland Agriculture Science, Biology and Earth and Environmental Science syllabus. r
File Size: 0 bytes
File Type:
Login