ForestVR Update December 2018
03 December 2018
ForestVR 360 Filming has commenced!
The Forest VR project has begun with filming commencing at Visy paper and board manufacturing plant in Tumut and the Hyne Timber Mill, Tumbarumba NSW in November 13-14 2018. Working with Think Digital's Tim Gentle for 360 8K filming, both locations offered unrestricted access to all aspects of the production chain including a 360 birds eye view of a 40 metre tall Log Crane in operation, driving on a fully automated robotic logistics fork lift, within the log loader at Hyne and getting behind the scenes within the scientific testing laboratories with Visy scientists. See some behind the scenes video below!
How do I get involved?
To be invovled in either the filming process at a forest or wood product site, or in the important trialling of resources in your classroom, please contact Beth on info@forestlearning.edu.au.
ForestLearning Australian Forest Education Alliance help make Forest Virtual Reality a Reality!
The ForestLearning program, and the development of exciting new virtual reality forest and wood products classroom tools, captured the attention of the 13 participants at the annual Australian Forest Education Alliance gathering in Canberra on 15th November 2018.
Held at the ANU Fenner Forestry School, the ForestLearning annual face-to-face workshop showcased how virtual reality technology can assist students to learn about the diversity and renewable cycle of Australia's renewable forests and wood products. Represenatives attended from Narrabundah College ACT, Australian National University, National Arboretum, Australian National Botanical Gardens, Forest Products Comission WA, HQ Plantations, HVP Plantations, Responsible Wood, Australian Forest Products Association and Green Triangle Forest Products.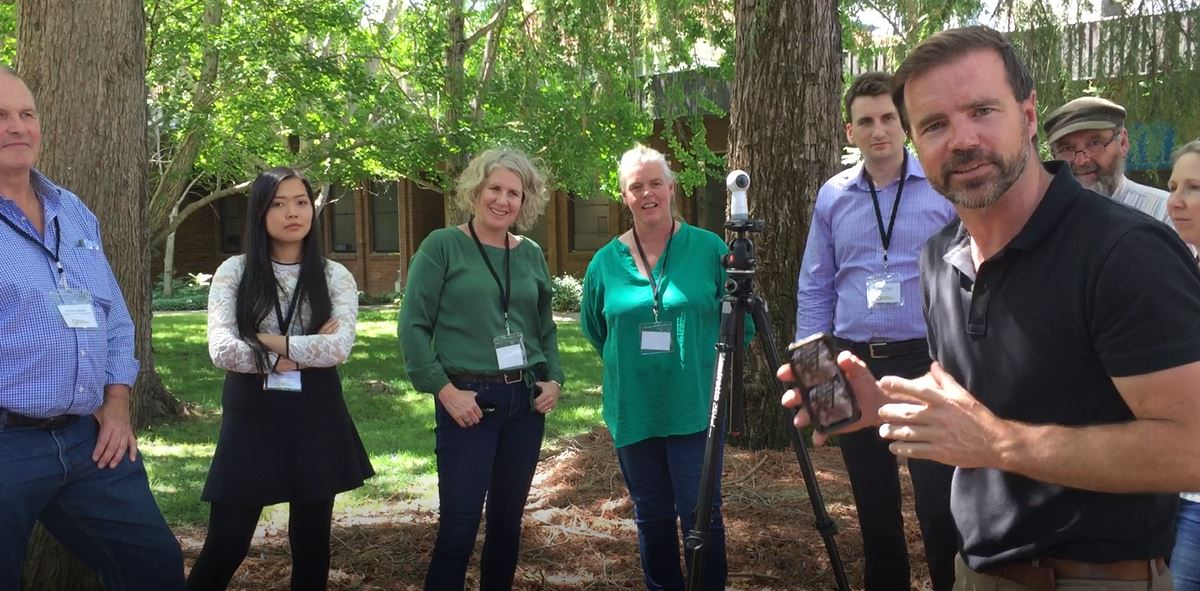 Following a ForestLearning update for the year that's been, Tim Gentle from Think Digital lead a hands on Virtual Reality workshop for the group. It is hoped that through the training of foresters and environmental educators who attended, new 360 videos of Australia's forests can be captured for the ForestLearning ForestVR project to add to the classroom toolkit. ForestLearning has purchased a VR 360 camera kit to loan to interested parties in order to capture more effectively and efficiently in 360 video format the various renewable forest types around Australia for classroom comparison and Geography studies. They will also be helpful in providing the new Earth and Environmental Science subject with locally applicable renewable resource case studies, amongst many other subject area uses.
ForestLearning and the Geography Teachers Association of Victoria's Education Think Tank Workshop 13 December 2018
Next week, 13 December 2018, a Geography Teachers Association/ForestLearning teacher consultation workshop is scheduled in order to align 360 video content with curriculum outcomes. Teachers from Victoria and South Australia as well as lecturers at University of Melbourne and Australian Catholic University will be attending to help shape these tools for the classroom.
These new classroom tools will be a 'first' for the forest and wood products sector, capturing in virtual reality the renewable cycle that is the Australian forest and wood products story. The new ForestLearning resources will allow students to virtually experience forests and wood and fibre processing facilities – from the 'paddock to paper plate' or 'seed to skyscraper' – for a range of subject areas and year level outcomes, aligned to the Australian curriculum.
By stimulating students' minds at the cutting edge of new technology, ForestLearning is looking to invest in the future, developing new-age learning tools and teacher aids that connect students with forests like never before. New teaching tools that will engage technology-savvy learners in schools today, such as the use of 'virtual reality', will provide a greater visibility and accessibility of the ultimate renewable forest and wood cycle in classrooms.
As it stands, ForestLearning interacts with thousands of teachers and students each year with current content on the ForestLearning website www.forestlearning.edu.au, aligned to the Australian curriculum. However, the opportunity now is to supplement these teaching and learning resources that have been developed for the first and second dimension, and take them into the third dimension. Through virtual reality (VR) and augmented reality (AR) ForestLearning is now more than ever before able to take Australian forests into classrooms. It's about using technologies to engage with, and educate, the next generation of foresters, timber and wood-based enthusiasts.
With rising global temperatures and carbon dioxide emissions, the renewable and carbon sequestering forest and wood products sector has an amazing story to tell. ForestLearning will be undertaking further filming of forests around Australia within the first few months of 2019.