ForestVR virtual excursions during covid19
28 May 2020
ForestVRTM toolkit for schools - www.forestlearning.edu.au/forestvr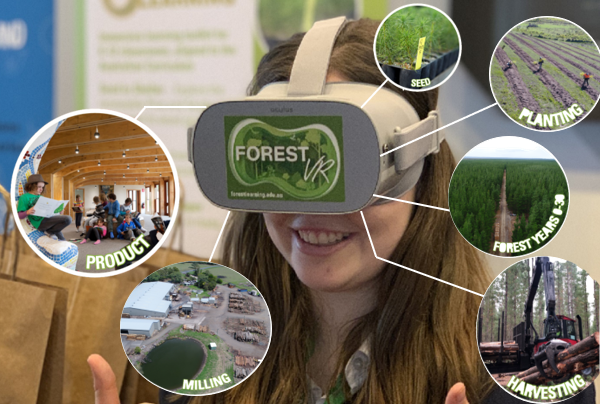 Since launching last September, ForestLearning's ForestVRTM toolkit – learn through immersion, has allowed students to experience firsthand, through 360 virtual reality experiences of forest and mill environments, the renewable cycle of forestry from 'Seed to Shelter' in an immersive and engaging way.
The ForestVRTM virtual reality toolkit, and soon to be launched Geography and Design and Technologies teaching resources and lesson plans, was developed and designed through collaboration with the Geography Teachers Association Victoria, the Design and Technology Teachers Association Victoria, and other successful early adopters of VR in classrooms, in conjunction with leading forest and wood product industry partners. Filmed at 28 different locations across Australia, the 360 immersive experiences and virtual tours are available to view and access via www.forestlearning.edu.au/forestvr. ForestVRTM Apps for IOS, Android and Oculus are also soon to be launched in term 2 2020.
Virtual reality has truly overcome problems around the inaccessibility of visiting physical forests and wood processing facilities - particularly useful and relevant during the current covid19 lockdowns. ForestVRTM 360 video experiences can be viewed by students using virtual reality headsets via YouTube links, but is just as effective as a learning tool using iPads, laptops/computers or smart phones.
360 virtual tours mirror the video experiences and allow students a chance to investigate more deeply each stage of the renewable wood lifecycle from seed to shelter using Roundme online tools. Students see the various stages of the sustainable forestry cycle and learn and investigate how forests are actively managed as a renewable resource. With sustainability as a cross-curricular priority, these tools are being used across a range of subject areas K-12 – science, geography, design and technologies, agriculture and more.
Phase two of ForestVR™, which has been made possible by funding from the Federal Government, will focus on using VR technology to educate students about forest and wood product themes including the uniqueness of Australian forests and their management, agroforestry, and a selection of the broad variety of career options in the industry. The second phase of ForestVR™ is currently in development and will experience some delays in filming due to various state lockdowns with a new launch time of 2021.