Ag Teachers get a taste of benefits of Trees on Farms
02 December 2020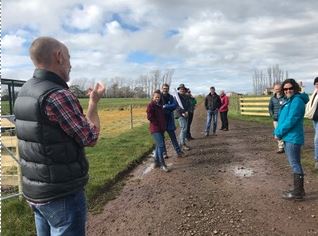 The Tasmanian based Forest Education Foundation is a not-for-profit educational institution that aims to develop teacher and student knowledge about forest landscapes by providing educational opportunities that explore forest environments, resources and the future role of forests.
In term 3 they helped to facilitate a teacher professional learning workshop to 14 Tasmanian educators teaching in the Agricultural - Food and Fibre Production space. The day was focused around 'Trees on Farms', with teacher participants working collaboratively to explore curriculum links to the Food and Fibre Production curriculum and learning opportunities focused around trees in the agricultural landscape. The group learned more about the practicality of establishing trees on schools farms and the benefits by visiting areas of the Hagley Farm School that are being set up for shelter belts, woodlots and biodiversity plantings.
| | |
| --- | --- |
| | |
As part of the day, participants used Forest in a Box – Design and Make to represent 'Trees on Farms'. This was a great opportunity to apply the design thinking approach in a completely different context. Molly Daskey-Willis and Stephen Clarke from Private Forests Tasmania shared their expertise with the group and provided a valuable insight into the benefits of trees in the farm landscape.
2021 Tasmanian School Forest Education Events

The Forest Education Foundation will be helping to facilitate a similar Professional Learning workshop to that conducted at Hagley Farm School in the south of the state in Term 2, 2021. Register you interest to attend by emailing the FEF here - http://www.forest-education.com/contact-us/
2021 will also see the Forest Education Foundation working closely with some pilot schools to establish Trees on Farms programs on their school farms, which will involve field trips, planting opportunities, resource development and the chance for students to connect with the forest industries across the state.
Trees at Work on the Farm - School Teaching and Learning Resources
ForestLearning, in collaboration with Agroforestry professionals around the country and teachers, has developed the "Trees at work on the Farm" teaching resource, free to download - written by teachers for teachers. It has been designed to align to Year 7 Science, Year 7 and 8 Design and Technologies, Year 9 and 10 Design and Technologies, Agriculture year 11 and 12 (including NSW BOSTES Agricultural Technology and Year 11 senior agricultural science (Qld)).
Kondinin Group also has The Story of Agroforestry book available for school classrooms that takes you onto Australian farms to discover more about farm forests. It is available to order here - https://www.kondininbookstore.com.au/the-story-of-agroforestry/